Final Total Maximum Daily Loadings (TMDLs)
The State of Georgia assesses its water bodies for compliance with water quality standards criteria established for their designated uses as required by the Federal Clean Water Act (CWA). Assessed water bodies are placed into one of three categories with respect to designated uses: 1) supporting, 2) assessment pending more data, or 3) not supporting. These water bodies are found on Georgia's 305(b) list as required by that section of the CWA that defines the assessment process, and are published in Water Quality in Georgia report.
Some of the 305(b) not supporting water bodies are also assigned to Georgia's 303(d) list, also named after that section of the CWA. Water bodies on the 303(d) list are required to have a Total Maximum Daily Load (TMDL) evaluation for the water quality constituent(s) in violation of the water quality standard.  The latest and older versions of the 305(b)/303(d) report can be found here.
The TMDL process establishes the allowable pollutant loadings or other quantifiable parameters for a water body based on the relationship between pollutant sources and instream water quality conditions.
tmdl pie.gif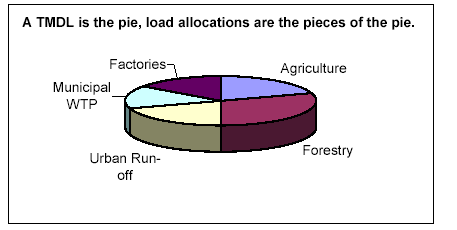 This allows water quality-based controls to be developed to reduce pollution and restore and maintain water quality.  For more information regarding TMDLs, TMDL Implementation Plans, or Watershed Improvement Plans, please contact Elizabeth Booth at 404.463.4929.
For more information about watershed assessment and planning, please visit the Georgia EPD Tools for Total Maximum Daily Load (TMDL) Implementation and Watershed Planning page. 
Below are the final TMDLs for the State of Georgia organized by major river basin.