Section 319(h) Georgia's Nonpoint Source Implementation Grant
Subscribe to 319(h) Grants Notices
UPDATED JULY, 2020: 
FY2020 Grant Application Period is Closed.
FY2020 award winners will be contacted in the Fall 2020. 
Announcement for FY2021 Grant Application Period is expected in January 2021.  
*Coming Soon* Files for Active 319(h) Contractors. 
The Georgia Environmental Protection Division (GAEPD) anticipates receiving a FY2020 Section 319(h) grant to prevent or abate nonpoint source pollution in support of current, revised
2019 Georgia's Nonpoint Source Management Plan. Using a competitive process, GAEPD will award grant funds to eligible applications that propose to reduce pollutant loads and result in measurable water quality improvements to impaired waters throughout the State.
Section319_logo.png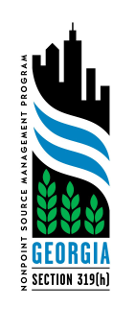 The grant requires a cost-share ratio of 60% Federal dollars (maximum) and 40% non-federal match (minimum) toward the total project cost. The maximum Federal award to any individual project is $400,000 with no minimum Federal award amount. Proposed project schedules should be completed within three years.
ELIGIBLE APPLICANTS: Local, State or regional public entities, agencies or authorities that operate public service or delivery programs (e.g. sewer, water, resource development or planning); city or county governments that have Qualified Local Government status; county extensions; local school systems; and State colleges and universities. 
MINIMUM REQUIREMENTS FOR FUNDING: To be considered for funding, projects must meet all three of the following minimum requirements:
Implement existing watershed-based/watershed management plans that adequately address USEPA's Nine Elements for Watershed Planning;
Focus within a 10-digit Hydrologic Unit Code (HUC-10) or smaller watershed; AND
Commit to a minimum 40% non-federal match.
ELIGIBLE PROJECTS: Grant proposals must specify the nonpoint sources of pollution and identify the activities best suited to address those sources, such as the following: green infrastructure/low impact development projects; watershed hydrology restoration; urban stormwater controls not included in NPDES permits; agricultural BMPs; education and training; water quality monitoring to evaluate success of BMPs; and lake/pond dredging as long as ALL contributing sediment sources have been corrected.
APPLICATION DOCUMENTS:
ADDITIONAL APPLICATION RESOURCES:
ADDITIONAL CRITERIA APPLIED DURING THE SELECTION PROCESS: Proposals that meet the following criteria will be reviewed in a more competitive light: Include appropriate project evaluation components; demonstrate cost-effectiveness; support the current, revised Georgia Nonpoint Source Management Program (see 2019 Plan above); alleviate NPS pollution in impaired waters or protect healthy watersheds (Georgia's 2018 Section 305(b)/303(d) List of Waters); engage multiple partnerships; leverage ongoing watershed management activities; address priority pollutants; target priority watersheds; correct adverse impacts of increased impervious surfaces; correlate BMPs to management strategies identified in appropriate Regional Water Plans.
Joyce McClain
SECTION 319(H) FY2020 GRANT TIMELINE
January 2020: GAEPD issues the call for proposals
*DATE CHANGE* April 2, 2020 Pre-application Meeting Webinar (required) 
*DATE CHANGE* April 14, 2020: Last day to submit DRAFT proposals for GAEPD written review (optional)
April 30, 2020: Email deadline for digital applications to GAEPD
Summer 2020: Grant award selection 
Summer 2020: GAEPD notifies applicants of grant award
Fall 2020: GAEPD and grant recipient finalize project scope of work
Fall 2020: GAEPD and grant recipient execute contract, and project begins
CONTACT:  To inquire about potential projects, schedule a conference call with Joyce McClain.