Updated July 2018: FY2019 Grant Application Period is OPEN.
Application Deadline is OCTOBER 31, 2018
PRE-APPLICATION MEETING WEBINAR: All applicants are required to attend a webinar with GAEPD Grants Unit Staff to discuss the current application process. Project partners, consultants, or other affiliated parties are welcome to attend, but the lead organization must be in attendance on-line.
Two webinars are being held. You may attend either session; identical information will be presented.  The webinar presentation document is the Quick Guide to Evaluate Your Project & Apply.  Please download and have available for reference during webinar. 
Pre-application Webinar 1: Thursday, September 6, 9:30am – 10:30am
Dial-in number (515) 604-9811 • Access code 654429
Pre-application Webinar 2: Wednesday, October 3, 9:30am – 10:30am
Dial-in number (515) 604-9811 • Access code 654429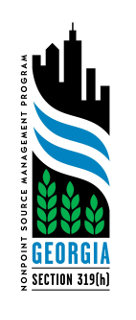 ---
The Georgia Environmental Protection Division (GAEPD) anticipates receiving an annual grant under Section 319(h) of the Federal Clean Water Act to help prevent, control and/or abate nonpoint source pollution in support of Georgia's Nonpoint Source Management Program. GAEPD then conducts a competitive process to fund eligible projects that will lead to direct reductions in pollutant loads and measurable water quality improvements in impaired waters throughout the State.
The grant's cost-share policy requires a maximum of 60% Federal dollars and a minimum of 40% non-federal cash or in-kind Match toward the total project cost. Currently, the maximum Federal award to any individual project is $400,000, which requires a minimum local Match of $266,667, resulting in a total project cost of $666,667. There is no minimum Federal award amount that a project can receive. The maximum duration of any individual grant is limited to three years to achieve the project goals and objectives.
ELIGIBLE APPLICANTS: Public entities such as city or county governments with Qualified Local Government status; regional and State agencies; authorities that operate public service or delivery programs (e.g. sewer, water); regional commissions; resource conservation and development councils; county extensions; and local school systems and State colleges and universities. 
MINIMUM REQUIREMENTS FOR FUNDING: To be considered for funding, projects must meet all three of the following minimum requirements:
Implement existing watershed-based plans that adequately address USEPA's Nine Elements for Watershed Planning;
Focus within a 10-digit Hydrologic Unit Code (HUC-10) or smaller watershed; AND
Commit to a minimum 40% non-federal match.
ELIGIBLE PROJECTS: Grant proposals must specify the nonpoint sources of pollution and identify the activities best suited to address these sources, which can include: TMDL implementation; watershed restoration; local regulatory or non-regulatory enforcement programs; urban stormwater controls not included in NPDES permits; technical and financial assistance; education and training; and water quality monitoring to evaluate success of best management practices.
APPLICATION DOCUMENTS:
ADDITIONAL APPLICATION RESOURCES:
ADDITIONAL CRITERIA APPLIED DURING THE SELECTION PROCESS: Proposals that meet the following criteria will be reviewed in a more competitive light: Include appropriate project evaluation components; demonstrate cost-effectiveness; support the Georgia Nonpoint Source Management Program (see 2014 Plan above); alleviate NPS pollution in impaired waters or protect healthy watersheds (Georgia's 2014 305(b)/303(d) List of Waters); engage multiple partnerships; leverage ongoing watershed management activities; address priority pollutants; target priority watersheds; correct adverse impacts of increased impervious surfaces; correlate BMPs to management strategies identified in appropriate Regional Water Plans.
SECTION 319(H) FY2019 GRANT TIMELINE
July: GAEPD issues the call for proposals
September 6 or October 3, 2018 Pre-application Meeting Webinars (required to call in to at least one webinar) 
September 28, 2018: Last day to submit DRAFT proposals for GAEPD written review (optional)
October 31, 2018: Post mark or delivery deadline for applications to GAEPD
Winter 2018-2019: Grant award selection 
Spring 2019: GAEPD notifies applicants of grant award
Summer 2019: GAEPD and grant recipient finalize project scope of work
Fall 2019: GAEPD and grant recipient execute contract, and project begins
CONTACT:  To inquire about potential projects or to schedule a conference call, contact Joyce McClain at joyce.mcclain@dnr.ga.gov or 404-651-8525.