Enhanced Stage I Vapor Recovery
Georgia Air Quality Rule 391-3-1-.02(2)(rr)
Enhanced Vapor Recovery (EVR) is a gasoline vapor recovery system which recovers at least 98% of the emissions at gasoline dispensing facilities during bulk gasoline deliveries.
If you own a gasoline dispensing facility located in Barrow, Bartow, Carroll, Hall, Newton, Spalding, or Walton counties, you must have EVR installed now.
If you own a gasoline dispensing facility located in Cherokee, Clayton, Cobb, Coweta, DeKalb, Douglas, Fayette, Forsyth, Fulton, Gwinnett, Henry, Paulding or Rockdale, your facility must have converted to EVR by May 1, 2012. Beginning June 1, 2008, new facilities in these areas were required to install EVR.
Beginning June 1, 2008, new facilities in these areas were required to install EVR.  Please note that facilities in these three counties that existed prior to June 1, 2008 must continue to operate and test their stage I systems.
Stage I County Map Final Light Blue 2023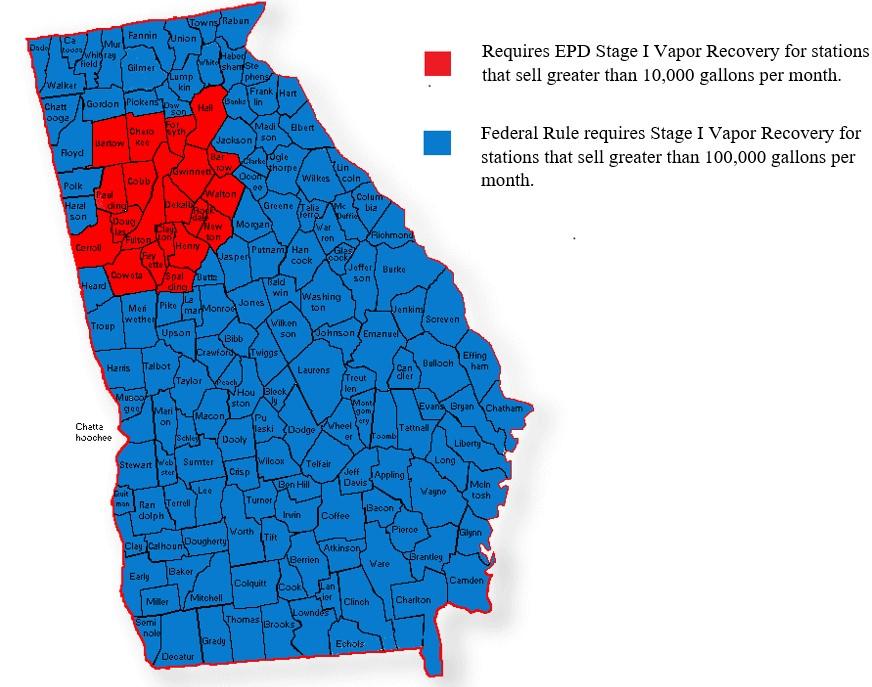 Beginning January 10, 2010, a federal rule applied to all other Georgia counties. The federal rule states that if you are an existing station and sell more than 100,000 gallons of gasoline a month, you will be required to install a regular vapor recovery system. See EPA Rule "CCCCCC".
See map for Stage I requirements
Georgia Air Quality Rule 391-3-1-.02(2)(rr) is part of the plan to improve air quality in Georgia. Air quality in the metro Atlanta region has been designated by the U.S. EPA as "non-attainment" for ozone. This means that the air does not meet federal air quality standards and can be unhealthy to breathe.
Fumes from gasoline contribute to ozone pollution. Some fumes are toxic. Vapor Recovery limits the amount of fumes and toxic compounds emitted into the air.
The Stage I Vapor Recovery System
stageIdisplay.jpg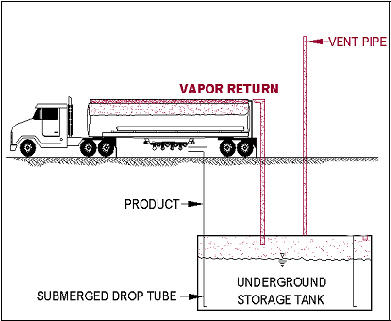 Components of a Stage I System
A drop tube as recommended by the system manufacturer that is within 6 inches from the bottom of the tank
Tank vents at least 12 feet high from the ground with an approved pressure/vacuum vent valve
A drain valve for the spill bucket
Poppetted Vapor Adaptor 
EVR is different from the regular Stage I Vapor Recovery because it also has the following:    
Identifiable rotating adaptors for gasoline and vapor
Integrated drain bucket, drop tube and drain valve
Specialized P/V valve
Spill bucket for vapor adaptor
Important!
All components and installers must be certified by the manufacturer.
​You cannot mix and match EVR parts.
Stage I Approved Systems for Georgia (go to websites or to download document) 
Stage I Approved Testing Companies
Common Questions Concerning EVR
Who can install my EVR?
Only certified, trained technicians are allowed to install your EVR. Each system's website has a list of certified technicians from which you can choose.
Once my EVR system is installed, what am I required to do?
Your new system will need to be tested by a trained, certified tester. For a list of approved testers, call Patrick Brand, GA EPD, at (470) 524-0512.
What about EPD inspections?
The Environmental Protection Division (EPD) periodically will conduct unannounced inspections to ensure that your EVR was properly installed and tested and is being maintained correctly.
Testing and Maintenance Schedule
Certification testing is required within 30 days of system installation.
Recertification of existing regular vapor recovery system is every 12 months thereafter.
Recertification of EVR Stage I is required every 12 months following the initial certification.
EVR Stage I installers and testers must be certified by the manufacturer of the system installed.
Download Reporting and Record-Keeping Forms 
Please submit completed forms to [email protected].
Download Brochures and Other Information
If you have questions concerning Enhanced Vapor Recovery or Georgia Air Quality Rule 391-3-1-.02(2)(rr), please call Patrick Brand.
Patrick Brand