The Environmental Protection Division (EPD), Wastewater Regulatory Program has been delegated the authority by the Environmental Protection Agency (EPA) to administer permits for the treatment and disposal of domestic and industrial wastewater under the Clean Water Act. A permit is required from EPD for any facility that intends to discharge, land apply, or inject wastewater or fluid within the State.
EPD offers four types of permits based on the method of disposal utilized by a facility as shown in the following table. More information on each type of permit, including types of dischargers, the application process, and permit requirements, can be found at the corresponding links.
| Permits | Description |
| --- | --- |
| | Anyone that discharges or intends to discharge treated wastewater into a water(s) of the State |
| Land Application System Permits | Anyone who applies or intends to land apply treated wastewater |
| Industrial Pretreatment Programs and Permits | A POTW that accepts process wastewater or anyone that discharges process wastewater to a POTW |
| Underground Injection Control Permits | Anyone who injects or intends to inject fluid into the subsurface |
Beyond simply the method of disposal, permit classifications are further based on whether the source of the influent is domestic or industrial, whether it is an individual or a general permit, and finally as either a major or minor facility.
Despite the varying classifications, however, all types of permits contain similar requirements for the conditions of operation/treatment and reporting, as well as certain standard conditions.
Permit Classifications
Sources of Influent
The Wastewater Regulatory Program designates permitted facilities based on the type of influent that the facility treats: domestic (sanitary sewage) wastewater or industrial wastewater. While some facilities may treat both types of influent (such as a POTW with an approved Pretreatment Program), the classification is based on the majority percentage of the influent. Facilities within these categories include, but are not limited to, the following:
| Domestic Wastewater Facilities | Industrial Wastewater Facilities |
| --- | --- |
| Publically Owned Treatment Works (POTW) - Such as Municipalities, Counties, or Other Public Authorities | Any private facility that generates a non-domestic process wastewater |
| Private and Institutional Development (PID) - Such as Real Estate Companies, Hotels, Churches, or Mobile Home Parks | Any private facility that generates a non-domestic non-process wastewater, such as cooling water |
Individual Permits
Individual permits may be issued for NPDES, LAS, Industrial Pretreatment, and UIC discharges and may be issued to public and private facilities. These permits provide site specific effluent limitations based on the individual processes of the facility, the specific receiving stream designated uses, any applicable State and Federal Regulations, water quality standards, or drinking water standards. Each facility is required to submit its own application package and will be issued an individual permit.
Effluent limitations and other parameters included in an individual permit may vary based on whether a facility has been designated as major or minor based on the following criteria:
Domestic Wastewater Facilities 
Industrial Wastewater Facilities

Major: Flow greater than or equal to 1.0 MGD or has a Pretreatment Program

Minor: Flow less than 1.0 MGD

Major: Determined by EPA's NPDES Permit Rating Work Sheet
If you would like to receive an individual permit, individual permit applications & forms can be found here.
General Permits
A selection of NPDES and LAS General Permits has been created to cover multiple facilities with similar operations. Please visit the following link to learn more about the differences between Individual and General Permits and to review the NPDES and LAS General Permits available. If you already know the General Permit under which you would like to receive coverage, General Permit forms can be found here.
Permit Requirements
General Permit Requirements_1.jpg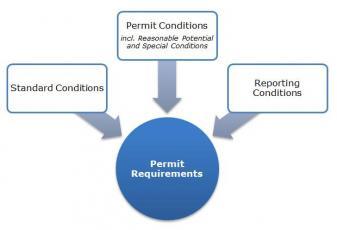 While the process and requirements for obtaining each type of permit are unique, all EPD wastewater permits contain similar conditions to ensure the protection of water quality in the State for fishing, recreation, and drinking water. These conditions are classified based on standards, permitting, and reporting.
Each of the permit pages further defines these conditions; however, specific information on permit conditions and reporting conditions may also be found at the corresponding link.
Contacts