Gasoline Transport Vehicles
Georgia Air Quality Rule 391-3-1-.02(2)(ss)
If you transport gasoline to a facility required to have Stage I Vapor Recovery, this rule applies to you. Counties subjected to Stage I regulations in Georgia are as follows: Barrow, Bartow, Carroll, Catoosa, Cherokee, Clayton, Cobb, Coweta, DeKalb, Douglas, Fayette, Forsyth, Fulton, Gwinnett, Hall, Henry, Newton, Paulding, Richmond, Rockdale, Spalding, Walker and Walton. Since January 10, 2010, a federal rule applies to all other Georgia counties. The federal rule states that if you are an existing station and sell more than 100,000 gallons of gasoline a month, the Georgia Air Quality Rule 391-3-1-.02(2)(ss) will apply to you.
Stage I County Map Final Light Blue 2023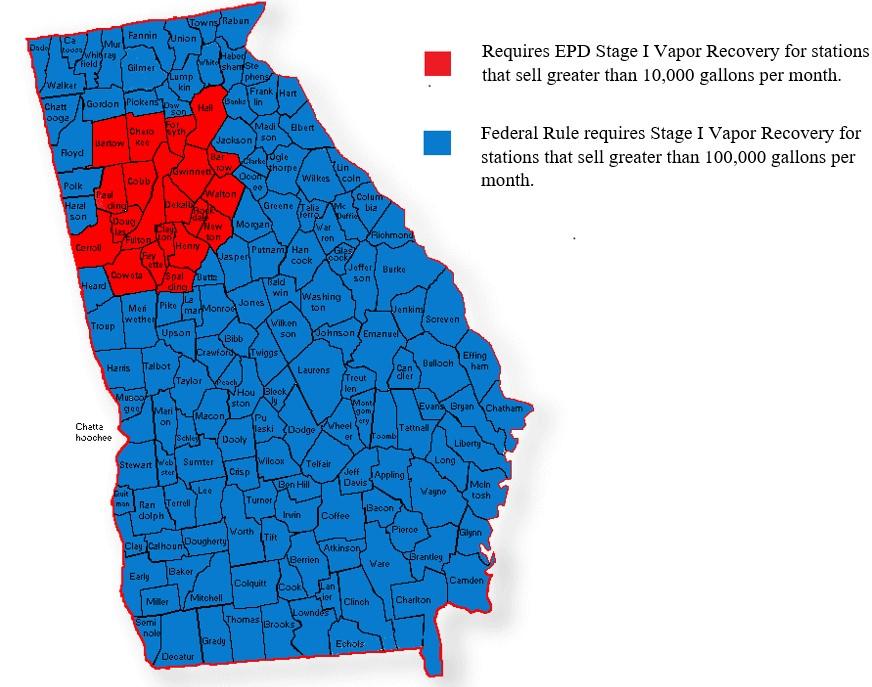 Georgia Air Quality Rule 391-3-1-.02(2)(ss) is part of the plan to improve air quality in Georgia. Air quality in the metro Atlanta region has been designated by the U.S. EPA as "non-attainment" for ozone. This means that the air does not meet federal air quality standards and can be unhealthy to breathe.
Gasoline vapors contain over 200 chemicals, many of which are toxic or carcinogenic such as benzene. In addition, Volatile Organic Compounds (VOC) make up these vapors and contribute to ground level ozone. Ground level ozone aggravates heart and respiratory illnesses and may contribute to the development of various diseases including bronchitis and emphysema.
Stage I Vapor Recovery refers to any system that is capable of recovering the vapors displaced when gasoline is being transferred from a gasoline transport vehicle into a stationary storage tank at a gasoline dispensing facility. The state of Georgia requires that 90%—98% of all these vapors be reclaimed.
The responsibility for complying with the Stage I requirements falls on both the transporter and the recipient of the gasoline. Transporters of gasoline must have their gasoline trailers pressure and vacuum tested once per year to ensure that these have no leaks. The test must include the vapor hoses, piping, and fittings that are a part of the vapor transport vehicle collection system. The deliverer must also ensure that the trailer is properly hooked up when transferring gasoline from the transport tank to the storage tank.
Learn the Basics of Air Quality
Patrick Brand
Learn about Rule 391-3-1.02 (ss) and keep your air clean and your business in compliance.
1. Connecting and disconnecting vapor recovery hoses at a gasoline drop
Connection order
Vapor hose must be connected from trailer to tank first in the following order:
First connect vapor hose to truck
Second connect vapor hose to gasoline storage tank
Gasoline hoses are connected next
Only two gasoline hoses can be connected for each vapor hose. Connecting three gasoline hoses per vapor hose will cause excess vapors to be released into the air and will result in a violation of the Stage I rule. It may also damage the pressure vacuum valve.
Disconnection order
Gasoline hose(s) must be disconnected first
Vapor hose(s) must be disconnected last
Excessive spills must be reported to EPD's Underground Storage Tank Management Program (USTMP) at (404) 362-2687.
2. Annual testing and certification of trailers
All transport vehicles must be certified annually using EPA Test Method 27, Determination of Vapor Tightness of Gasoline Delivery Tank Using Pressure/Vacuum Test.
Test results must be sent to EPD.
Send test results to the Environmental Engineer listed on this page.
3. Test date labeling on trailers
labelgraphic.png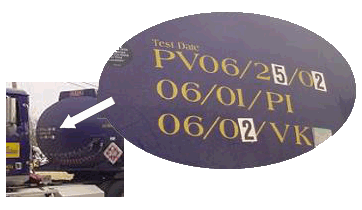 Test Info must be displayed in two inch letters on the right front passenger side of the trailer. 
P/V test date
EPA 27
Last Tank Test
A copy of the most recent pressure-vacuum test results must be kept with the transport vehicle.
All testing and repair records must be kept by the owner for two years.
Below is a Summary of Vapor Recovery Violations that Can Occur:
No vapor hose connected
One vapor hose for three or more gasoline hoses
Open vapor poppet or trailer dome cover allowing vapor to vent
Failure to test gasoline transport trailer
Failure to send Annual Report to EPD
Failure to label the trailer
Connecting vapor hose prior to connecting to truck
Download Tests and Repair Notification Forms Below:
Repair Form : This form may be used for reporting any repairs completed on a gasoline transport vehicle that previously failed a Method 27 vapor tightness pressure/vacuum test.
Tanker Form : This form may be used for reporting the results of the Method 27 vapor tightness pressure/vacuum test. This form should be submitted to the Division within 30 days of test completion.
Trailer Form : This form may be used for reporting the results of the Method 27 vapor tightness pressure/vacuum test. This form should be submitted to the Division within 30 days of test completion.
Please submit completed forms and/or supporting documents to [email protected].  If you have questions about Vapor Recovery and Transport Vehicles as they apply to this rule, please call the Environmental Engineer listed here.