Ambient Monitoring Program
Visit the Ambient Monitoring Program website to access current air monitoring data throughout the state.
Phone: (404) 363-7000 
Fax: (404) 363-7100
AMP website graphic.jpg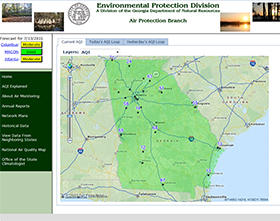 The Ambient Monitoring Program measures levels of air pollutants throughout the State. Hourly measurements are available. AMP also reports the Air Quality Index (AQI), a simple measure of a region's air quality, for several Georgia cities and offers daily Smog Alert forecasts.
Conducts ambient monitoring for air toxics, VOCs, lead, ozone, sulfur dioxide, carbon monoxide, nitrogen dioxide, particulate matter, and meteorological conditions.
Measures levels of air pollutants throughout the state.
Uses data to determine compliance with ambient air quality standards.
Uses data to evaluate the need for special controls and to assist with citizen inquiries.
Participates in the Smog Alert program.
Jaime Gore, Program Manager, Phone: (770) 633-5136
Email Jaime Gore
Data Analysis Unit
Janet Aldredge-Byars, Unit Manager, Phone: (470) 938-3390
Email Janet Aldredge-Byars  
Meteorology Unit
Bill Murphey, Unit Manager, Phone: (404) 363-7079
Email Bill Murphey
 
Operations 1 Unit
Janessa Rowland, Unit Manager,  Phone: (404) 217-0945 
Email Janessa Rowland
Operations 2 Unit
Karl Armstrong, Unit Manager, Phone: (470) 303-9702
Email Karl Armstrong
 
Operations Support Unit
Lynsey Scarbrough, Unit Manager, Phone: (404) 783-1466
Email Lynsey Scarbrough
 
Quality Assurance Unit
Farhana Yasmin, Unit Manager, Phone: (470) 524-0653
Email Farhana Yasmin